Magic Kingdom - Disney World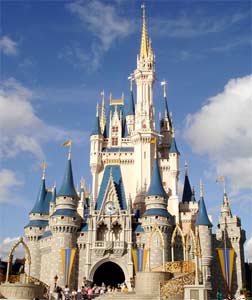 Few people realize that the Walt Disney World Resort is actually made up of four separate theme parks. Most people assume that Walt Disney World is one large theme park, but this is not the case. Each theme park offers a wide variety of attractions and entertainment, and each park takes roughly a day to complete. The four separate theme parks are Magic Kingdom, Animal Kingdom, Epcot and Hollywood Studios. The most visited theme park in the world is Disney World's Magic Kingdom, and for good reason. Magic Kingdom is Walt Disney's primary theme park, as well as the first one built in the Central Florida area. Most of Walt Disney's dreams were poured into this great theme park, and its slogan says it all, the place where "Dreams come true." If you are looking to go there really is no better way than with Discount Disney Tickets!
Magic Kingdom is home to the classics, Walt Disney's most memorable characters. The second you enter the park you will be on Main Street U.S.A., here you will be greeted by some of your favorite characters in costume. Located at the end of Main Street is Cinderella's Castle; the icon of the Disney theme parks as well as the center of Magic Kingdom. Main Street is absolutely full of shops and souvenirs. Here you can find all that fantastic Walt Disney merchandise that is perfect to take home to your family. Whether your looking for stuffed figures of your favorite characters or a wide selection of fun filled snacks and treats to take back home one of these many shops is sure to have it! The variety of merchandise being sold here is expansive, you can be sure to find something for everyone! Main Street U.S.A. is used for events throughout the year as well as on a daily bases. Most nights the street is used to host a lively parade with bright lights and your favorite Disney characters. During the seasons you can see the fireworks being launched from Cinderella's Castle from here. If your looking for Disney Tickets you can find them at a discounted price, saving you money to let you buy those great souvenirs from Disney with the money you save!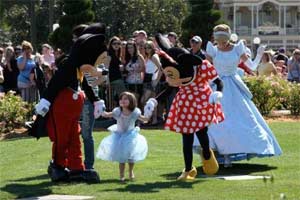 Magic Kingdom is separated in to seven separate sections. Each section houses its own unique set of rides and attractions that go along with the areas theme. The Seven zones are Main Street U.S.A., Fantasyland, Liberty Square, Frontierland, Tomorrowland and Mickey's Toontown Fair. Fantasyland is home to some of the more colorful of the Magical Kingdom rides. Take an adventure through some of your favorite movies with Micky Mouse and friends in Philhar Magic, an adventure that will have you on the edge of your seat. If you have a young one that enjoys that honey loving bear than look no further, here you can find "The Many Adventures of Winnie the Pooh," a fun filled and tame ride that takes you through the universe of everyone's favorite bear! One of Disney's oldest and classic rides is "It's a Small World," a fun boat ride through a colorful world of little people singing and dancing to the theme song that will be stuck in your head your entire stay! Elephants can't fly, but here in the world of Dumbo they can! This ride offers you the opportunity to soar high above the theme park on the back of your very own elephant! Everyone is a fan of the carnival carousel and Cinderella's Golden Carousel lets you ride around and around on some of her favorite steeds and carriages. One of Disney's greatest classics is the boy who lost his shadow, Peter Pan. Take a journey into Neverland and come face to face with the pirates that threaten this peaceful island where kids never grow old! After Peter Pan's Flight take a winding ride through dark woods and face the Evil Queen in Snow White's Scary Adventure. Fantasy Land is full of fun and adventure, be sure to visit these awesome rides when you're in Magic Kingdom!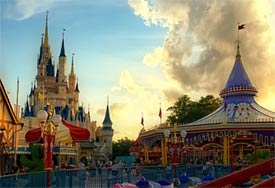 Liberty Square is home to an interesting array of rides and attractions. First on the list is Goofy's Country Dancin' Jamboree, where your favorite Disney characters perform live for you to enjoy! Next stop is the classic Haunted Mansion, located on top the hill in the back of the Liberty Square zone. You can call the mansion "tomb sweet tomb" and come face to face with the comical 999 happy haunts that live here. With optical illusions and a lively group this ride combines eerie characters with Disney fun! The Hall of Presidents sticks out on the corner of Liberty Square, inside you get an educational look at the countries previous leaders by stories presented by animatronic characters. Finally take a boat ride on the Liberty Square Riverboat where you get a tour of the Rivers of America on this authentic three-tiered paddleboat.
Head over to Frontierland where the West meets Disney in a clash of rides and shows! Enjoy food and fun with the Country Bears as they dance and sing live on stage to some of their greatest hits. Florida is hot and humid and it just so happens that the land out west knows how to remedy such a problem. Climb your way up to the top of Splash Mountain and ride your way down the waterfall inside one of these eight passenger logs, trust us, you will get wet. After soaking up Splash Mountains water make your next stop to the Frontierland Area Depot where you can board the steam train and tour the theme park. Finally head over to the Shootin' Arcade and fire at targets to trigger silly events on the range, its all in good fun! Disney World Tickets have never before been so inexpensive, be sure to look at these great prices if you plan on taking a vacation to the area!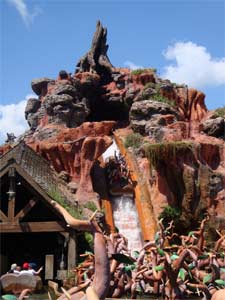 Adventureland takes you into some of the wildest and most adventurous parts of the theme park. Fly high on the magic carpet of your choice on Magic Carpets of Aladdin, where you get to see the theme park from a birds eye view. One of Disney's greatest classics is Pirates of the Caribbean, which can be found right here in Adventureland. Accompany the crew of the Black Pearl as they wreak havoc on the ocean and cause panic for the pirates. After you're done with the pirates take a jungle cruise into the wilds and come face to face with exotic animals and even lost tribes! When your done climb the tree house that the Swiss Family Robinson's built after narrowly escaping a shipwreck. Finally enter the Enchanted Tiki Room that has just fallen under the management of the birds, this whacky adventure will leave you laughing your way to the door!
Tomorrowland takes you to the future as Walt Disney saw it just sixty years ago. A popular attraction here is Buzz Lightyear's Space Ranger Spin, where you get to fight your way alongside our Toy Story hero to battle the forces of Zurg. When your done here enter space mountain an indoor rollercoaster and travel through space in this incredible adventure that could only come from the future! Pilot bumper cars high above Tomorrowland in the Astro Orbiter and then ride the Transit Authority afterwards to see all of the Tomorrowland area on this smooth tour!
Mickey's Toontown Fair is a fun and relaxing way to finish off the day. During certain hours of the day Disney Characters come out to participate with the children in pictures and games. Here you can find Mickey and Minnie's houses as well as Donald Ducks boat and Goofy's Barn. This is a great place for the younger kids in your group.
Magic Kingdom has so much to offer it is easy to see why it takes the top of the list for theme parks in the world. Be sure to check out all the attractions and entertainment at the place where "Dreams come true!" One of the best ways to enjoy the park is when you are located nearby, with a Disney Hotel you will be just a short distance away from the theme parks, making access to the parks much easier. Disney Hotels are also have a theme and often sport pools and attractions, meaning even after the parks close you, you're spouse or your children can have a magical time the entire time your in the area!