Epcot - Disney World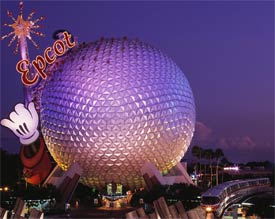 Few people realize that the Walt Disney World resort in Orlando located in Central Florida is actually compromised of four separate theme parks as well as two great water parks. Most of Disney's advertisement is directed at the number one visited theme park in the world, Disney's Magic Kingdom. However the Magic Kingdom is closely followed by Hollywood Studios, Animal Kingdom and Epcot. Each of these theme parks offers a wide variety of rides, entertainment and of course shows. Each park has its own unique theme and takes roughly a day to complete all the rides and other forms of entertainment. So if you're in town for a full week you can visit one park each day and you still wouldn't have enough time to see it all! That's what makes Disney such a great place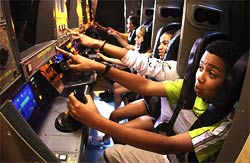 for vacation, there is always something to go back and do!
Epcot stands for "Experimental Prototype Community of Tomorrow." It was originally Walt Disney's plan to build his own community existing in a stand alone environment. Obviously legality restricted him from doing so, and years later this theme park adopted another theme. Epcot now is home to the future, well… almost. It has put serious effort into presenting technological and scientific advances to tourists in fun and exiting ways. Through rides and entertainment you can take a journey into the incredible world of human advancements that that few will have the opportunity to see! Epcot is frequently visited by school groups because of its educational value.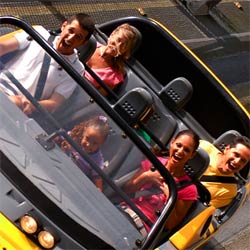 While most of the Disney World Resort theme parks are separated in to several different sections to help people Epcot is only separated into two sections. The first section you will encounter is the Futureland Attractions zone; here you can find all the fun and entertaining rides that attract so many people to this great theme park! The first ride you come across is Test Track; you might even hear the screams of excitement before you see the ride itself. Here you wait in line while watching a series of monitors that explain just what it takes for a new car to pass safety standards. Then as you enter the cart you quickly realize you are about to become the test dummy on this wild and fun filled roller-coaster! Next head on over to Honey, I Shrunk the Audience a whacky twist to the Honey I Shrunk the Kids Disney classic. This 3D experience will have you squirming in your seat and laughing aloud to some of your favorite characters. Head over to Mission: SPACE where you and three friends can land a shuttle on mars under the most extreme conditions. This interactive ride puts you on edge of your seat, because at times you won't even be able to move! If you have kids in the family be sure to make your way over to Turtle Talk: with Crush everyone's favorite character from the Finding Nemo original movie. Here the funny and energetic turtle interacts with the kids live on screen, answering questions and swimming around! Next head over to the Land ride where you can take a peaceful ride through a large greenhouse at the highest point in Epcot. Inside you can see Disney's efforts and breakthroughs to fighting the cause of world hunger. Finally be sure to head out to the large lake at Epcot and watch the Illuminations: Reflections of Earth, an incredible pyrotechnic show with special effects on the water, the perfect ending to a Disney Day.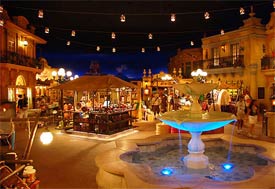 The second zone for Epcot you will come across is the World Showcase. People with Park Hopper Tickets often visit this section of Epcot for lunch as it holds the most options out of all the Disney theme parks. The World Showcase surrounds the Epcot Lake; here you can find a series of restaurants pertaining to separate cultures. Each restaurant severs food from their nationality, meaning you get can just about any kind of food from anywhere in the world. However food isn't the only thing these places offer, you can find a wide variety of entertainment and interactive activities at each one of the countries. From small rides to feature length films as well as educational tours and informational presentations these fantastic little adventures bring their cultures to life right in front of you! Daily shows are performed out front of each countries pavilion, with live entertainment depicting old and new culture. Each pavilion is clearly marked by its architectural design, meaning it looks and feels like the country it's from! The pavilions are Mexico, Norway, China, Germany, Italy, the American Adventure, Japan, Morocco, France, the United Kingdom and Canada. Make sure to visit them all while you're Epcot, we can assure you that you won't be disappointed!
Epcot is home to a wide variety of fun rides and attractions as well as the World Showcase; we haven't even listed all the rides in the park! It is easy to see why the theme park is listed as one of the top ten theme parks in the entire world. Make sure to visit the Experimental Prototype Community of Tomorrow while you are in the area!