Sea World - Orlando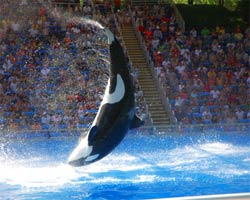 Central Florida or Orlando to be exact is the number one destination for vacations in the entire world, and for good reason. Orlando is absolutely full of entertainment, attractions and above all, theme parks. Because there is so much to do in the area it is easy to see why families and friends choose to visit this area for their week or weekend of fun. Among the Walt Disney World theme parks and the Universal Theme Parks you will find the fun and unique Sea World. Sea World is located directly next to its sister theme park the Discovery Cove, where you actually have the opportunity to swim with the sea life and even the oceans smartest animal, the dolphin! So come down to Sea World and see what all the talk is about, trust us when we say you won't be disappointed!
Sea World takes a unique approach the part of nature that few have the opportunity to experience. Bringing natures best kept secrets to the surface this unique theme park takes some of the worlds most exotic animals and lets you get up close and personal encounters that can be found no where else in the world! Sea World doesn't only offer exhibits where you can practically reach out and touch the animals; its primary draw is the incredible shows that play throughout the day. Sea some of these magnificent animals perform incredible stunts with their trainers that will have your jaw dropping every thirty seconds. These massive tanks allow animals the size of eighteen wheelers to flip and fly right in front of your eyes!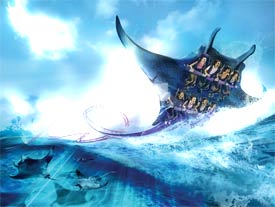 While Sea World's primary attraction is the animals the theme park is also home to some great rides. Sea World's most recent addition to the family is the Manta roller coaster. This fun adventure takes the cake for unique roller coasters as it dangles you with your back to the air. When you take the first drop you will fly face first on a straight down angle, when you hit the loop you will be facing the sky! When you are strapped into the seat you will be facing forward as if sitting in a chair, then suddenly the cart lurches and you are lifted six feet into the air with your back facing the ceiling. Finally you shoot out of the bay departing and making your ascent; this ride is an awesome adventure and a must for any roller coaster enthusiast.
Everyone knows that when you're in Florida and visiting a theme park that you should wear sunscreen. But sunscreen doesn't cool you off during the hot days in Orlando, which come all too often. Sea World has put great effort into bringing you Atlantis, the lost city at the bottom of the ocean. This water ride will get you wet and indoors, the perfect solution to cooling off during the day. As you find the limitless treasures inside Atlantis a stranded mermaid offers to show you the rest of the city. When her intentions turn dark your adventurous journey takes a sixty foot drop in a narrow escape from the city!
Finally you come to Kraken, a recent addition to the Sea World family of rides. The mystical creature known as the Kraken is a fabled monster that sunk ships and caused terror across the oceans. Now it has made its way to Sea World and you have the opportunity to ride it! As you take your seat on this roller coaster the floor will fall out from underneath you and you will began to ascend fifteen stories into the air. Sea World prides itself when it says the Kraken Coaster achieves speeds of over sixty five miles per hour. So if your one of those many that has a need for speed this roller coaster has plenty to spare.
A popular show at Sea World is the Clyde and Seamore Take Pirate Island show. Inside you will find large stadium like seating surrounding a beach that appears to have been the landing site of a large pirate ship. Once Clyde and the comical Sea Lion Seamore come out the show is underway as these two marooned sailors struggle to keep the island they now call home. This comical and hilarious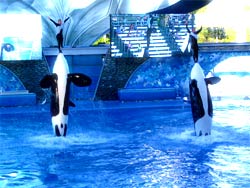 show is a perfect mesh between sea life and man that will have you laughing, cheering and applauding, some few guests will even have the opportunity to participate!
Sea World's biggest and most popular event however is Shamu's Believe! This show here is where you get to see the two ton killer whales perform complex maneuvers that you will see no where else in the world. These massive animals have been trained side by side with Sea World trainers to pull off stunts previously thought unimaginable. At night when Shamu's Believe begins with music blasting and the light show begins you can hear the "oos" and "ahs" from the entire park. This incredible show draws people in from all around the world, be sure you don't miss it!
These are only a few of the many rides, attractions and shows at Sea World. With so much to see and do this theme park is a great way to spend your day while in Central Florida!