Typhoon Lagoon - Disney World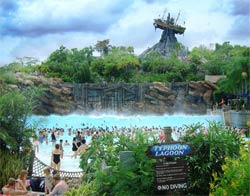 Most people visiting Disney for the first time make the assumption that the Walt Disney world resort is only one theme park. The truth is that will all the entertainment and attractions in the resort one theme park just isn't big enough. Here in the Disney Resort you can find four separate theme parks and two water parks, the theme parks are Magic Kingdom, Epcot, Hollywood Studios and the Animal Kingdom. Each theme park takes roughly a day to complete, so if you're visiting the area, be sure to give yourself enough time to enjoy all the theme parks. Each theme park has its own unique set of rides and attractions, meaning each park is its own separate experience. Magic Kingdom is the most visited theme park in the world, but together the theme parks make the Orlando area the "Number one destination for vacations."
As you read above the Walt Disney World Resort is home to two separate water parks, the Blizzard Beach and Typhoon Lagoon. Each water park has rides and attractions that are unique to its theme, meaning that if you have already visited one, there is still a lot to see at the other. Blizzard Beach is a fun adventure around Disney's Mount Gushmore, a snow covered mountain that was created after a freak snow storm in Central Florida. Typhoon Lagoon was created when a massive typhoon swept over the state, fortunately for Disney the wave actually brought guests towards the place where the wave finally crashed.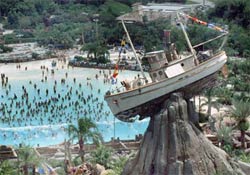 Now underneath the large mountain at the center of the Typhoon Lagoon you can enjoy slides, pools and attractions, the perfect way to cool off from the hot Florida Sun, it is the Sunshine State after all! You know when you're at Typhoon Lagoon when you see the massive mountain with a boat speared on top of the mountain, steam rising from its cabin. Every hour the boat signals a loud blast signifying the time day; this echo can be heard from miles around.
Water parks are the perfect way to relax during your vacation. Running from theme park to theme park can be exhausting, especially when Florida is so hot and humid! Here at the water park you can kick back and relax with a place to cool off, chill under the sun and enjoy food and drinks. If you are really looking to just relax under the sun while enjoying the water than make sure to visit Castaway Creek. This lazy river twists and turns all the way around the theme park, meaning you can grab a tube and just watch your surroundings change as you float down this slow moving river. Once you're done there you can head over to Sand White Beach, a quiet and peaceful area located just off the beaten trail next to the surf pool. Here you can find chairs and hammocks shaded by umbrellas in this beautiful and relaxing atmosphere.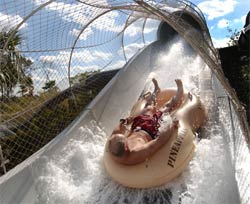 One of the most important parts of the Typhoon Lagoon is the Surf Pool, a fan favorite for visitors to the theme park. Everyone likes the ocean, but wading out into deep water and getting all sandy isn't always the most enjoyable thing to do. Well here at Typhoon Lagoon the ocean comes to you, and better! This massive wave pool creates waves up six feet high, the closer they get to the shallow water the faster they become small, until there are none at all. That means all ages can enjoy the water, without fear of being pushed over by large waves! The wave pool can be great fun, ride the waves in this clean and energetic surf!
If your looking for the high speed entertainment of a water slide than look no further! Typhoon Lagoon is home to a wide variety of fun and exhilarating slides that wave in an out of the typhoons left behind wreckage. One of the most popular groups of slides in the park is the Storm Slides. These interweaving courses will have you twisting and turning in a race to the bottom. Because each slide is different you can enjoy a new course every time you speed down the hillside. When you're done here head over to the Humunga Kowabunga, three massive side by side body slides that lets you race your friend's five stories to the ground. Check your times when you get to the bottom, because you are going to go fast.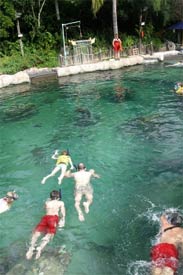 When you have had your fill of the water slides take your friends or family over to the Crush 'n' Gusher. This high speed slide lets you hop in a tube with one or two others and go up and down, left and right, side to side and any other direction you can think of. The water rushes so fast it propels you down this large water slide like nothing you have ever seen before! When you're done there take your group to Gang Plank Falls and hop in a large raft that seats four guests at once. Employees will push you over the edge where you will meet rushing rapids in high speed adventure down the side of the mountain!
Keelhaul Falls and Mayday Falls are two water slides that you have the opportunity to inner tube through. With a rushing waterfall and sudden drops and twists this slide lets you get up to speeds unimaginable! When you finally hit the water at the bottom you will glide along it surface until you finally come to a slow halt in the large pool at the bottom.
Finally if you have children be sure to head over to the Ketchakiddee Creek area. Here you can find a large splash pad with fountains and playgrounds for the kids. This is a great place to let kids play with other kids their age and it is constantly monitored for your kid's safety. When you get the chance be make sure you head over to the shark reef and dive with real live sharks! We can assure you its completely safe and a once in a lifetime opportunity to see these animals up close in their own habitats!
So when the sun is high in the sky and you think it would be a great day to kick back and relax be sure to head over to Typhoon Lagoon and enjoy all the fun and entertainment! With so many rides and attractions you can spend an entire day here in the water, what more could you ask for?