Blizzard Beach - Disney World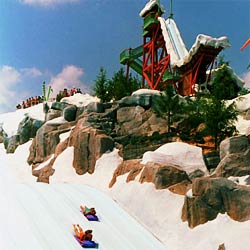 Few people who plan on making a vacation to Disney realize that the Walt Disney World resort is actually home to four separate theme parks as well as two water parks. Most of the time when Disney advertises their theme parks you will see the Magic Kingdom, but Disney has so much more to offer. Each theme park holds its own unique set of rides and attractions as well as shows and entertainment. Each theme park takes a full day to complete, so if you plan on vacationing in the area be sure to give yourself enough time to enjoy everything. With so much to see and do in the Walt Disney World resort it is easy to see why the Orlando area is the "Number one destination for vacations."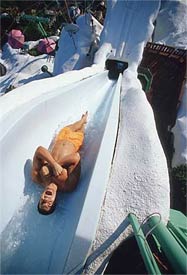 As stated above Walt Disney World is home to two different water parks, the Typhoon Lagoon and Blizzard Beach; each water park has its own separate theme that includes fun rides and attractions. Blizzard Beach recently experienced a terrible freak of nature when a rogue snow storm made its way across Florida. In the blink of an eye the Disney World Resort had its very own snow resort. But as Florida began to heat back up the snow began to become a wet mess and the slalom courses and toboggan slides began to become fast rushing streams of water. Fortunately for Disney an enterprising alligator saw the value of such a place, an opportunity to offer guests another way to cool off than just snow. Dressed to the brim in snow gear this alligator dropped his skis and rods and slid down the hill and into the pool at the bottom.
This exhilarating water park is full of great rides and attractions, and since the slides don't take long for people to get loaded and unloaded the lines move quickly. If you really liked the slide you just went on then turn around and go right back up, in just two minutes you will be sliding right back down with that look of glee on your face. During the hot days in Florida, which aren't just in the summer, water parks are a great place to cool off during one of the days of your visit. Blizzard beach is the perfect choice if you plan on having fun under the sun!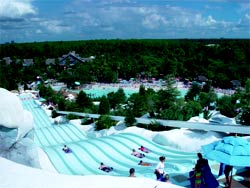 Blizzard Beach is full of rides and attractions that come in all shapes and sizes. Whether you are looking to kick back and relax or have a pulse pounding experience you can find it right here in the water park! One of the more relaxing rides in the park is the Chair Lift. Since Blizzard Beach is built around a snow covered mountain you can either walk your way to the top or ride this entertaining ski lift. On your way up you can see almost the entire park as well, so kick back relax and enjoy the show! If your looking to lay out under the sun while riding down a slow flowing river than you have come to the right place! The Cross Country Creek is a lazy river that flows around the entire park, so whether you want to enjoy the sites or you're looking to get where you're going in no rush this little river is a fun little rabbit trail.
Everybody likes to race and here at Blizzard Beach you can take the challenge on the downhill Double Dipper. Whether its friends or family these two side to side super slides will have you speeding down the hillside at high speeds. Since both slides are exactly the same your speed is based on your technique, so who has the more aerodynamic method? If you came looking to just kick back and relax in the pool, well… just relax we got your back. Blizzard Beach's Melt-Away Bay is a calm one acre pool surrounded by waterfalls for those looking to enjoy the Florida sun! When your done soaking it in at Melt-Away Bay head over to Runoff Rapids, a toboggan slide for one or two guests at a time! You will twist, turn and swirl your way down Mount Gushmore in this high speed adventure!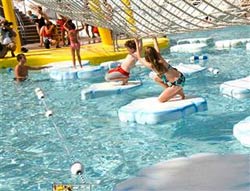 Teamboat Springs is another one of Blizzard Beaches popular rides and for good reason! You and your family can pile onto a raft, up to six people and fly your way down the side of the mountain. Share a laugh with friends and family in this entertaining adventure. Next make your way to the Toboggan Racers where you and seven others can race down the side of the mountain. With enough lanes to get your whole family in this is high speed entertainment you can find nowhere else. Finally head on up to Summit Plummet, where all the other slides are dwarfed in comparison. This huge twelve story slide is a straight down 120 foot waterslide that will have you screaming till you're up to speeds boarding sixty miles and hour!
If your brining kids to the theme park than do not fear, Disney has gone through great effort to ensure there is something for the entire family. The Ski Patrol Training Camp is a combination of all the fun rides around the theme park in much smaller sizes. With a pool full of floating ice platforms your kids are completely safe and watched at all times by life guards. This fun little area is great for the kids while you visit!
Blizzard Beach is a fun and exiting water park that is perfect for those hot days of the year! With so many rides and attractions we can assure you that you will enjoy every waking minute of your visit!