Universal Studios - Orlando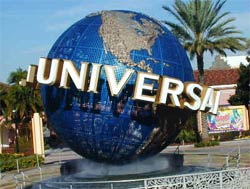 Central Florida is the number one destination for vacations in the entire world, and for good reason. Orlando is home to a wide variety of theme parks, attractions and entertainment that draw people in from all over the world. With theme parks such as Disney, Universal Studios, Sea World and other local attractions the area is booming with tourism. Because there is so much to do it is easy to see why people prioritize the theme parks they want to visit when they come down to the Sunshine State. One of Central Florida's greatest theme parks is Universal Studios at the Universal Resort. It is located right next to its sister park Islands of Adventure and is connected by City Walk.
City Walk is a combination of a variety of fun night life that is open all year round. As stated above it joins the Islands of Adventure and Universal Studios theme parks together. Inside City Walk you can find all kinds of entertainment ranging from shopping, restaurants and even clubs. As you make your way out of the parking garage the first thing you will see is the large AMC theatre that plays movies day and night. City Walk offers so many options for you to enjoy your night it is easy to see why it is so popular in the area. Another important thing to note is that City Walk is free; while some of the places in the area cost small fees for admission the rest is open! This is a great way to finish the night off after the parks close, or come visit on a day that you don't plan to go the parks!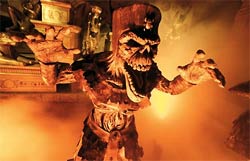 Both Islands of Adventure and Universal Studios are home to a wide variety of rides, attractions and entertainment. Each park has its own unique themes that set its attractions aside from the rest, Universal Studio's attractions are based on the classic movies and TV shows that we have all come to know and love. While most theme parks are divided into sections to make navigating easier Universal Studios is just one giant conjoined park. The rides offered at Universal Studios are great for all ages, ranging from the popular Shrek to the classic Jaws.
First on the list of rides is the Revenge of the Mummy, a special effects ride that takes you through the cursed tomb of the evil Imhotep. Freed from his carefully woven wraps this mummy is going through great effort to ensure you don't leave. With fire, water and mummies you will speed along on this moving roller coaster ride! Feel the heat of the fire and get splashed by the water as you twist and turn down these long lost hallways! When you finally escape the mummies grasp head straight for the Rip Ride and Rockit, Universal Studios newest addition to the family. This incredible roller coaster has a ninety degree drop that gets your cart up to unrealistic speeds. What sets this ride apart from the rest is that you get to listen to music while you're on the track! Choose from a long list of popular artists and rock out to your favorite band while blasting down the track!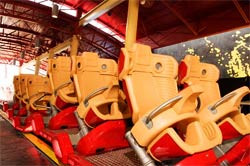 After you finish up with the Rip Ride and Rockit head over to Jaws, where you can take a tour of Amity Island, the unfortunate place where several fell victim to the attacks of a shark. The tales of this oversized shark had an unexpected effect on the island, bringing tourists from around the world to see the spot where the incident occurred. Now as you take the tour you quickly realize that the shark is back, and Jaws makes his appearance in an array of explosions, rushing water and of course, crashing into the side of the boat! When you're done making your narrow escape from the shark head on over to Men in Black Alien Attack. This fun filled adventure lets you have an up close encounter with aliens from every corner of the universe. What starts out as a training mission ends up being your initiation to the force as the aliens attack earth. Help fend them off and best your friends, because at the end of the ride you are given a score!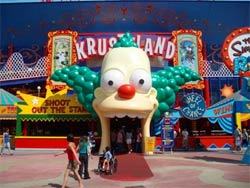 A popular ride at the park is the Simpsons Ride, a fun filled adventure through Krustyland Theme Park. After the Simpsons invoke an arch enemy you are taken through a wild ride full of comical humor and crazy events. This simulator is the first of its kind, raising you into a dome where the show is projected all around you! Next head over to Shrek 4-D where you can watch some of your favorite fairy land friends defend the castle from the evil Lord Farquaad. Your favorite Shrek and Donkey are back in a "Totally in your face fairy tale." In Shrek 4-D you can feel the heat, get wet when there's a splash and have your hair blown back as the dragon flies by. With special visual effects this isn't just a movie, it's a ride!
These are only a few of the great rides here at Universal Studios, there is so much more to see and do that if we told you, we would just ruin all the fun! Make sure you make your vacation special and visit this fantastic theme park only at the Universal Resort!